Course Options & Prices
Private Tuition & Structured Learning Materials
1. Find a Teacher  |  2. Choose a Course  |  3. Enrol Online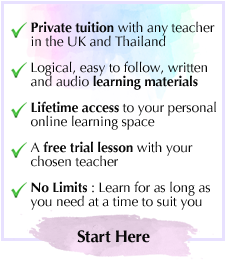 What do you want to learn? There is no 'one size fits all' method to learn any language. Every learner starts at a different level, progresses at a different speed and has different aims however it is important to have some form of structure to your lessons. We have developed different course options for different learners to ensure you receive everything you need to learn effectively with any Thai Style teacher. Read more below.
Trained Teachers: Your bilingual teacher has been trained to adapt our learning materials and their teaching methods to suit you, your level and your aims to ensure you get the most out of your time and money.
Start learning with a Thai teacher in the UK and continue learning the same course with a Thai Style teacher in Thailand.
Private Tuition: Pay your teacher directly for their hard work, we do not take a commission from your tuition fees. Affordable lessons can be arranged with any teacher at a time and location to suit you.
Course Duration: There is no exact science to learn a language so we set no duration for our courses. A course should last as long as it takes for you to learn. We give you lifetime access to your personal online learning space and you can learn for as long as you need with your teacher to complete the course and achieve your goal.
Trial Lesson: To help you get off to the best start and work out the logistics of future lessons every Thai Style teacher offers a free trial lesson. If within 30 days you are unable to attend a trial lesson and we cannot arrange for you to learn with another teacher we offer a money back guarantee.
"If you follow our steps to learn with a native speaker we expect most students will achieve their goal in learning Thai without wasting any time"
---
Short Thai Course

Learn some basic Thai conversation

About: A great way to start learning Thai with your local teacher. Affordable private lessons are suitable for complete beginners who are interested in learning how to speak Thai and individuals traveling to Thailand and want to get the most out of their holiday.

Course Aim: Understand about the basic principles of Thai language and speak basic Thai conversation.

Duration: No limits on tuition and lifetime access to your personal online learning space – Learn for as long as you need at a time, location and pace to suit you with any Thai Style teacher. On average the Short Thai Course (stage 1) is completed in 10 to 20 hours private tuition.

Cost: Enrolment £39 / Private Tuition £12 per hour
---
Speak Thai Course

Learn a lot of Thai conversation

About: The complete solution to Thai conversation. Focused on speaking skills, this course is suitable for complete beginners and individuals who already have some Thai conversation skills and wish to improve. The learning materials are easily adapted for students of all ages and abilities.

Course Aim: Learn both formal and informal conversation on many different subjects and understand the principles of Thai language.

Duration: No limits on tuition and lifetime access to your personal online learning space – Learn for as long as you need at a time, location and pace to suit you with any Thai Style teacher. On average the Speak Thai Course (3 stages) is completed in 30 to 60 hours private tuition.

Cost: Enrolment £80 / Private Tuition £12 per hour
---
Speak, Read & Write Thai Course

Learn lots of conversation and Thai scripts

About: This options give you access to learn our Speak Thai Course and our Read & Write Thai Course at a discounted rate. Suitable for complete beginners and individuals who already have some Thai conversation skills and wish to improve. This course is for a learner who plans to move, work or retire in Thailand.

Course Aim: Learn about the principles of Thai language, reading, writing and conversation. This is an intensive course option and contains many different exercises to help you practice and remember new skills over a long period of time.

Duration: No limits on tuition and lifetime access to your personal online learning space – Learn for as long as you need at a time, location and pace to suit you with any Thai Style teacher. On average the Speak, Read & Write Thai Course (9 stages) is completed in 90 to 150 hours private tuition.

Cost: Enrolment £139 / Private Tuition £12 per hour
---
Read & Write Thai Course

Already speak Thai? Learn how to read and write Thai

About: The materials teach Thai scripts, the word systems, grammar and sentence structure as well as further conversation skills. Suitable for learners who already have a good understanding of Thai tones and pronunciation and are able to speak basic Thai conversation. This course is the perfect next step after completing the Speak Thai Course.

Course Aim: Learn reading, writing and conversation. This course contains many different exercises to help you practice and remember new skills.

Duration: No limits on tuition and lifetime access to your personal online learning space – Learn for as long as you need at a time, location and pace to suit you with any Thai Style teacher. On average the Read & Write Thai Course (6 stages) is completed in 60 to 90 hours private tuition.

Cost: Enrolment £80 / Private Tuition £12 per hour
---
Upper Intermediate Thai Course

Advance your reading, writing and speaking skills

About: A course for students who can already speak, read and write Thai to an intermediate level. Consolidate and improve your skills with a trained teacher and short stories on different topics.

Course Aim: Practise reading, writing, conversation and understand different types of speech with progressive short stories on Thai culture, history and geography.

Duration: No limits on tuition and lifetime access to your personal online learning space – Learn for as long as you need at a time, location and pace to suit you with any Thai Style teacher. On average the Upper Intermediate Thai Course (3 stages) is completed in 30 to 60 hours private tuition.

Cost: Enrolment £80 / Private Tuition £12 per hour
---